Mexico demands crackdown on drugs in the US following casino carnage
Saturday, August 27th 2011 - 07:21 UTC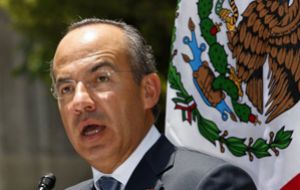 Mexican President Felipe Calderon declared three days of mourning Friday and demanded a crackdown on drugs in the United States after armed men torched a casino in northern Mexico, killing at least 65 people.
Under intense pressure as violence soars, Calderon said he would send more federal security forces to the city of Monterrey, where gunmen set fire to an upmarket casino Thursday in one of the worst attacks of Mexico's drugs war.
"It's clear that we are not confronting common criminals, we are confronting true terrorists" Calderon said in a televised speech after meeting his security advisers.
He said the United States Congress needs to take steps to curb an "insatiable" demand for drugs and crack down on the illegal trafficking of weapons across the border into Mexico.
"We're neighbours, we're allies, we're friends, but you are also responsible," a sombre and angry Calderon said
Calderon first ordered a crackdown against the cartels when he took office in late 2006 and several senior traffickers have been arrested. However, turf wars between rival cartels have killed about 42,000 people, battering Mexico's reputation.
The president insists his campaign has weakened the cartels but critics say it simply brought a surge in violence and has done little or nothing to slow the flow of cocaine, marijuana and other drugs into the United States.
Coming less than a year before Mexico's presidential election, the casino attack raises the stakes for Calderon to stop the carnage, especially as the victims were mainly well-to-do civilians with no link to the conflict.
Monterrey, which lies about 230 km from the Texas border, is a relatively wealthy city of about 4 million people and is home to some of Mexico's biggest companies. It was for many years seen as a model of economic development but it has been ravaged by the drugs war over the past two years.