Landslide victory for CFK close ally in the province of Tucuman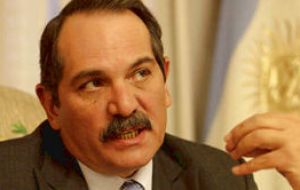 A close ally of President Cristina Fernandez de Kirchner, Tucuman province governor Jose Alperovich won on Sunday a landslide third straight mandate and his first words were of gratitude and remembrance for Nestor Kirchner.
"We owe the change in Tucumán to a friend who is no longer here, Néstor Kirchner" said Alperovich referring to the ex-President who died in October.
"The President (Cristina Fernandez) has helped a lot. She has just called me", said the re-elected official Sunday night when the first vote projections indicated an overwhelming victory, almost 70% of the ballot.
On Sunday night Alperovich offered a brief press conference in Tucuman's Government House, where Interior Minister Florencio Randazzo and Economy Minister Amado Boudou joined him.
The current governor was able to run for a third time thanks to a controversial clause added to the provincial Constitution during its 2006 reform, which indicates that governors will only be able to serve two terms. The clause, however, became in effect in 2007, when the governor had already been re-elected.
Though ballot counting is slower than usual thanks to an unusually large list of candidates, Alperovich is expected to have the biggest win of his political career in the province, even a bigger victory than the 2003 elections.
His runner up, Jose Cano was hoping to achieve 18% of the vote.
Alperovich by 2015 will have completed twelve uninterrupted years as governor, and some political analysts believe he could again attempt to reform the economy.
His running mate in the ticket is Juan Manzur, currently a member of the ministerial candidate in charge of Health.
Tucuman was the first election in Argentina since August 14 primaries when Cristina Fernandez obtained 65% of ballots cast in the province, which have been more than ratified by Alperovich.
Besides governor and lieutenant governor, the Tucuman electorate voted for 49 members of the Legislative Assembly, 19 mayors, and dozens of councillors and 93 chiefs of rural communities.
One of the smallest Argentine provinces with just over a million registered voters, equivalent to 3.5% of the Argentine total registry, turnout was 86%, according to electoral officials compared with the 81.8 in the August 14 primaries
Alperovich was first elected provincial deputy in 1995 for the opposition Radical party. In 1999, he was appointed Economy minister by Peronist Governor Julio Miranda and in 2001 he was elected Peronist senator and became close to Duhalde, who helped the Kirchners grab power in 2003.
The Electoral Board said that "everything was normal" during the vote and Alperovich's wife, Senator Liliana Rojkes de Alperovich, rebuked the opposition criticism saying that "elections are not won with allegations, but with ballots".
Opposition candidate Senator Jose Cano criticized the food aid distributed on Saturday by the provincial administration, saying that "it may not be a crime but, under ethical considerations, these practices should not continue."
From Buenos Aires cabinet Chief Aníbal Fernández celebrated the victory of Tucuman Governor Alperovich.
"The good performance pro-government movements are having in provincial elections is strengthening governments" said Fernandez adding that "people are acknowledging the good moment the country is going through".
"In Tucumán we saw a great participation of citizenship, I believe this is the way good governments are recognized" he underlined.