Uruguay plan to regularize 676 shanty towns (200.000 people), most in Montevideo
Tuesday, August 30th 2011 - 03:53 UTC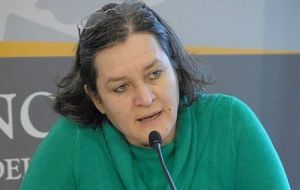 Uruguay announced it will invest 150 million dollars for the eradication of shanty towns, 90% of which are located in Montevideo, half of them in contaminated and flood-prone areas.
Housing and Environment minister Graciela Muslera estimated that "48% of the shanty towns or 'illegal settlements' can be regularized while the other 52% will have to be relocated".
Funds will be supplied by the central government 50 million dollars and the rest by PIAI, a special program to regularize shanty towns, which receives funds from the central government and multilateral organizations.
"In five years we plan to relocate 2.400 houses which involve 800 families, and work will begin in those areas most affected by contamination and flooding" said Muslera.
According to the Uruguayan government based on a 2005/06 census there are 676 irregular settlements in the country, 412 in Montevideo and 244 in the rest of the country, and the number of inhabited units is 53.700 with a population of 196.000 equivalent to 6% of the total population (3.241.000).
These numbers mean 11% of the Montevideo population lives in the irregular settlements and 3% in the rest of the country.
However a Non Government Organization which collects money for its program "A roof for my country" says that according to its own on the field sampling there are 562 irregular settlements in Uruguay, most of them in Montevideo and the number of inhabited units is 61.525 with a population of 257.000.
Most inhabited units are built of durable materials, 76.8%, while 19.4% with more precarious materials.
The surge of the irregular settlements was in the nineties and in the last decade growth has been the lowest since the decade of the fifties, says the NGO.