Cuban Ladies in White claim they are victims of (government sponsored) violent acts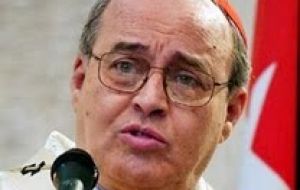 Leaders of the dissident group Ladies in White asked the Catholic Church on Tuesday to intervene before the Cuban government to end what they described as violent acts against them and other human rights activists.
They said government supporters had recently roughed up members of the group in Havana and a newly formed chapter in the eastern city of Santiago de Cuba and had given similar treatment to other dissidents.
Laura Pollan and Berta Soler told reporters they met with Church officials, but not Church leader Cardinal Jaime Ortega as planned because he was tired after returning from a trip.
"We asked the Catholic Church, which is our mediator, to end the harassment and the beatings of the Ladies in White ... and human rights activists" Soler said after the two emerged from the meeting at the Church's headquarters in Havana.
The church officials, who included Ortega's secretary Monsignor Ramón Suárez Polcari and spokesman Orlando Marquez, said they would pass the requests along to the cardinal.
The Church intervened last year after the Havana group was subjected to several "acts of repudiation" as they are called in Cuba and got an agreement from the government to allow them to continue silent marches every Sunday from the Santa Rita church on the main avenue of Havana's Miramar neighbourhood.
But the Ladies in White say they are being harassed by government supporters when they march elsewhere. Their protests began in March 2003 to demand the release of 75 of their family members jailed in a government crackdown.
As part of the agreement with the Church last year, Cuban President Raul Castro released 115 political prisoners, including those remaining from the crackdown. But the Ladies in White say about 65 political prisoners remain behind bars.
The government appears intent on stopping the development of the chapter in Santiago de Cuba, which is Cuba's second largest city, as the dissident group tries to expand.