US grain farmers furious with Argentina and Canada advance in the Colombia market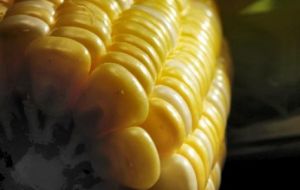 Argentina has rapidly displaced the US as the main supplier to Colombia of corn and in near future wheat, with volumes soaring from 99.000 tons in 2007 to over 2.2 million tons currently, points out Agrimoney.
Colombia is considered a crucial market for US grain exporters since in 2011-12 it is expected to need imports of 3.7 million tons, nearly twice as big as China's.
The shifts reflect improved grain harvests in South American countries following weather setbacks and, for Argentine wheat, government export curbs which prompted farmers to grow other crops.
But this is only part of the reason why Argentina has taken America's place as the dominant corn exporter to Colombia, while the US share of Colombian corn imports slumped from 96% in 2007 to 19.4% in 2010.
According to Agrimoney under the Mercosur trade agreement Colombia has introduced a 60% duty preference on corn imports from other countries in the block.
And while this is happening the free trade agreement between the US and Colombia which "would level the playing field and has been in the works for years", remains victim to the heightened tensions between President Barack Obama and Republican politicians.
"Because the US has not ratified the agreement, US corn, which is taxed at 15% duty, faces stiff competition from Brazilian and Argentine corn, with a duty of 6.7%" Kurt Shultz, Latin America director of the US Grains Council, an export promotion group, said.
And, since August 15 the US faces tougher rivalry from Canada too, after a free trade agreement between Bogotá and Ottawa came into effect.
Trade sources said that Colombian buyers "placed orders for 125,000 tonnes of Canadian feed wheat in the 10 days since the agreement went into effect".
These imports, an alternative to livestock feeders seeking an alternative to high-priced corn, "will further erode US corn sales opportunities in this vital corn market", the council added.
Likewise Canada is ousting the US from milling wheat orders too.
Nutresa, Colombia's main biscuit and pasta producer, responsible for about half the country's wheat imports, has said it is to source grain from Canada because of more favourable trade tariffs.