Argentina plans to lower unemployment to 5% in the next to years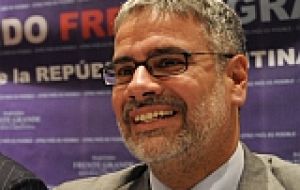 Argentina's Deputy Minister of Economy, Roberto Feletti stated on Thursday that the idea of the government is to "reduce the level of unemployment to 5%" in the coming two years.
"Currently the unemployment rate stands at 7.3%, the lowest rate in the last 20 years. The objective now is to reduce it to 5%," underlined Feletti.
Stating the figures, he commented that "we would like two million and a half people to be incorporated into employment, formally".
With a not too distant past of cyclical crisis and hyper inflation, Argentina still has a strong black economy which employs millions who remain unregistered. Likewise in spite of eight years of sustained growth, unparalleled in Argentine history, poverty and indigence percentages are still significant.
Feletti's statements were made during an interview where he further commented on the international economic crisis, insisting, "Argentina will not suffer a financial impact," due to debt-reduction policies and the Central Bank reserves.
In related news Argentina's statistics and census bureau reported that construction activity climbed 14% in July compared to the volume reported in the same month last year.
Compared to June, the sector registered a 1.6% increase, and accumulated a 10.2% increase during the first seven months of the year.
Indec also reported that the use of public services increased 11.1% in July compared to the previous year, boosted by the telephone services sector and tolls sector.
It has gained 9.1% against the previous month, and accumulated a 11.2% increase in the first seven months of the year.
According to Indec telephone services sector gained 21%; tolls, 9.4%; 2.9% the use of electricity, gas and water; and passenger transports, 0.9%.