Argentina's population stands at 40.117.096, up 10.7% from the 2001 census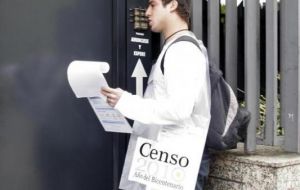 Argentina has a population of 40.117.096, according to the definitive facts of the 2010 National Population and Home census released by the country's national statistics and census bureau, Indec.
The facts show that the population has grown 10.7% since 2001, when there 36.2 million inhabitants.
Indec also reported that there are 20.533.000 women and 19.523.000 men, and together they occupy 13.835.000 homes. The number of households reported was 12.171.675.
By provinces, Santa Cruz in the extreme south of Argentina experienced the greatest increase in population, 31.9%; Tierra del Fuego, 28.8% and Chubut, 23.2% inter census. Buenos Aires province population grew 13% since 2001, and Buenos Aires City, 4%.
Of the total population, 12.333.747 are under 18 (30.74%) of which 6.072.181 female and 6.261.566 male.
Active population totalled 23.151.509 that is 57.71% of which 11.726.207 are men (18 to 65 years) and 11.425.301 women (18 to 60 years). The non active total 4.631.840 (11.55%) of which women double the number of men: 3.095.847 to 1.535.993.
The census also reveals a slight increase in the number of foreigners that in 2001 totalled 1.531.940 (4.2%) and in 2010 reached 1.805.957 (4.5%). This means the number of foreigners jumped y 274.017 which represents an 18% increase over the previous census.
The Census was carried out on October 27th, 2010, but was largely overshadowed by former President Néstor Kirchner's death.