England and Argentina – More than just a game?
Friday, September 2nd 2011 - 03:26 UTC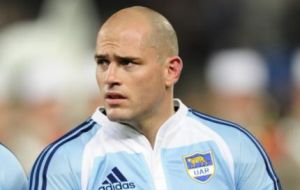 As New Zealand prepares to host the 2011 Rugby World Cup, we look at a game which will cause much interest in Latin America and the South Atlantic.
On Saturday September 10th, Argentina and England will meet in their opening match of the 2011 Rugby World Cup. After four years of preparation each team has readied itself as best they can for the six-week tournament which will ultimately end in the greatest prize in Rugby Union, the Webb Ellis Cup. The result of the game will of course be important in Rugby terms, but there is an underlying dimension to it which adds an extra spark. In the pubs of Stanley and the bars of Buenos Aires, crowds will gather to watch the clash which will represent more than just the 30 players on the pitch.
There are great rivals for England in sport: Germany in football, Australia in cricket and Scotland in just about anything. But the game against Los Pumas, when viewed from the Falkland Islands, will be just as important as any. Even those who would not normally be interested in this game with the strange ball, will look over to the large-screen TV, if only momentarily, to glimpse the score as the match progresses. It is unfortunate that to some, on the mainland and the Islands, the game will be a analogous to the 1982 conflict, an opportunity to demonstrate their country's might, but to the 15 men from Argentina and 15 from England who will proudly represent those countries, they will only have one thing on their minds, the desire to win for the sake of their sport.
They will not care about the ongoing disputes, there will be no ill-feelings, no political motives, it will be about what sport should be, the opportunity to represent their team and country in this great game. So as far as rugby is concerned, time to stop rattling the sabres and wave the flags instead. There is nothing wrong with patriotism but let's not politicise what is after all just a game! To whoever wins on the 10th, well done and good luck... or should it be bravo y buena suerte?
Argentina finished third in the 2007 World Cup after an outstanding performance managing to beat the host nation for the second time. England finished as runners-up being beaten by South Africa in the final.

Neil Russell, SeAled PR - Stanley