Thatcher and Falklands' military campaign invoked by US presidential hopeful
Friday, September 2nd 2011 - 08:39 UTC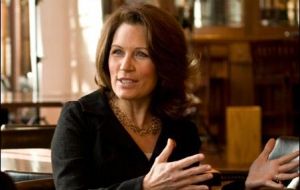 A United States congresswoman running a surprising strong campaign for the Republican presidential nomination has compared herself to ex-British Prime Minister Margaret Thatcher in a foreign policy speech aimed in part at convincing US veterans that she would make a strong commander in chief.
Michele Bachmann, a third-term congresswoman whose campaign has struck a note with small government, anti-tax conservatives (Tea party caucus) and evangelical Christians, offered a quick glimpse of her foreign policy views in a speech to the American Legion's national convention in her home state of Minnesota on Thursday.
President Barack Obama addressed the convention earlier in the week.
The candidate harkened to Thatcher's reputation for firm resolve, and pointed to the military campaign Thatcher waged against Argentina to regain control of the Falkland Islands in 1982. She also cited contemporary US President Ronald Reagan's confrontation of the Soviet Union and communism.
"It took two very strong leaders on the world stage, one a woman and one a man, to reverse the course of their respective countries," Bachmann said. "We should heed the lessons that they hold for those who seek to wreak havoc on peace and on democracy across the world today."
Bachmann emphasised her recent appointment to the House Intelligence Committee as evidence that she knows about potential threats such as Iran's nuclear program, which the US believes and Iran denies is part of an attempt to build a nuclear weapon.
Bachmann also described the US rising debt as an increasing security threat, calling the United States the "world's leading debtor nation" and stoking worry about China's stake in US borrowing.
"Even worse, the interest on the payments on the debt are going to the Chinese and those payments are going to build up Chinese military efforts," Bachmann said.
Bachmann, who was making her first public appearance in Minnesota in more than two months, mostly avoided reporters as aides rushed her into private meetings with veterans.
The candidate said her references to Thatcher were meant to spotlight a transformational figure of her era. "We're in a similar time period and we need to have strong, viable leadership to see that return again today, both with the military and with the economy," she said.