Uruguay oil company announces exploratory drilling inland with own resources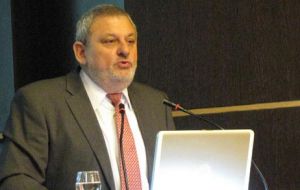 Uruguay' government owned oil corporation ANCAP said on Friday it had begun exploratory drilling inland with its own resources. The announcement was done during the presentation of the II Uruguay Round to tender offshore exploratory blocks which has attracted interest from several regional and international corporations.
"The drilling wants to confirm if there are hydrocarbons in some inland areas, following on March's discovery of certain conditions and source rocks plus the latest report on the existence of certain bacteria that feed on oil and which exist in a higher concentration than in Neuquen (Argentina), currently being exploited", said Hector De Santa Ana head of ANCAP's Exploration and Production Department.
De Santa Ana said that the exploratory trials in an area between Tacuarembó and Salto will go ahead "even if they are not commercially viable" and anticipated that the first well and data should be finished and available by next December.
"We're talking of trial wells, with the purpose of exploring; commercial extraction if any is years away. If we find some oil, we'll pump it out but that is not the purpose", said De Santa Ana who estimated the cost of a well in 150.000 dollars, to be totally financed by ANCAP.
"Hopefully at some moment, at some place Uruguay will be extracting its own oil from its own territory, but that's several years away following the strike".
ANCAP also on Friday presented plans for the hydrocarbons exploratory round which will tender 15 offshore blocks in Uruguay's continental platform to private corporations. The official launching is scheduled for September 7.
In 2009 Uruguay licensed two offshore blocks for exploration and production to an international consortium made up of Petrobras (Brazil), YPF (Argentina) and Galp (Portugal).
Uruguay must import all the fuels it consumes since it has not found yet any domestic sources. Oil imports are mainly from Venezuela, Ecuador and Iran, with whom Uruguay has a thriving trade dating back long before the current difficulties faced by Teheran.