Colombia's new defence minister is President Santos closest aide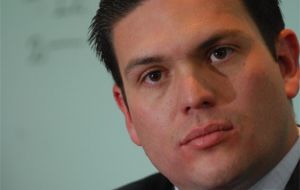 Colombia's new defence minister vowed on Monday a forceful response to illegal armed groups and more innovation in confronting guerrillas and drug barons in the country.
Latin America's No. 4 oil producer has faced increasing criticism from what is popularly seen as deteriorating security in a nation where Marxist oriented rebels continue to battle government forces and gangs look to expand their crime networks.
"We're right in a moment of confrontation, in which again it's necessary to innovate and respond effectively to the changes and challenges that we face" Defence Minister Juan Carlos Pinzón, 39, said at his swearing in ceremony as minister.
"The order we received from the President is to generate results, act decisively".
At the swearing in ceremony President Juan Manuel Santos said that "the enemy is debilitated but not defeated", adding that the number of 'terrorists' killed and captured in the last twelve months has increased by 20% and 70%, while 196 are waiting extradition.
Pinzón, an economist and former deputy Defence minister and who was head of the Executive's Secretariat, took over on Monday after the ex-chief quit in the face of growing criticism and the perception that security gains were being reversed.
Colombia's security has improved dramatically over the last decade as US aid flowed in to help in the battle to curb drug production in the cocaine-fuelled conflict, but guerrillas and gangs continue to challenge state control in some areas.
President Santos came to power last year vowing to continue the hard-line stance against illegal groups pioneered by ex-President Alvaro Uribe, but Santos' popularity has taken a hit over perceptions that security is worsening.
The conservative leader and US ally has said the country would develop better strategies to battle Marxist rebels financed by drug lords, who still manage attacks despite having been weakened.
Colombia has attracted billions of dollars in foreign direct investment over the last decade, boosting oil and coal output to historic highs after dealing blows to guerrillas and cocaine cartels. The economy is also one of the fastest growing economies in the region.
Pinzón -- who has worked for Citibank, the finance ministry and as an economics professor at local universities -- said he planned to look at investing more in technology and strengthening security for Colombians.
"Drug trafficking is the biggest drag on, the worst pain that has plagued Colombia," Pinzón said at a military ceremony. "It remains the fuel of all crimes in the country and we must continue (fighting)" he said.
Among the strategic goals mentioned by Pinzón are "border security, upholding peace in coalition with multi-national forces such as NATO and having the sufficient defence capacity that any normal democratic state demands".
"I have the historic responsibility of leading humbly and with dedication persistence and innovation, a team of 440.000 men and women whose commitment to duty I acknowledge", said Pinzón.
The new minister not only has been probably President Santos closest aide since he was first named Finance minister in 1998, but is also the son of a General and married to the daughter of an Army officer.
These facts make Pinzón "one of the persons which most knowledge has on the Armed and Police forces" in a country suffering from an armed conflict for over half a century, said President Santos.