Latam stocks down; the Real slides to 1.65 dollars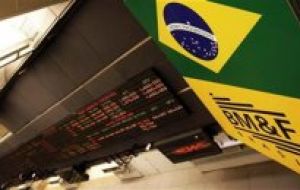 Latin American stocks fell on Monday as fears of a recession in Europe and the United States mixed with anxiety about the health of global banks to drive indexes below support levels, suggesting more losses.
The MSCI Latin American stock index dropped 3.8% in its biggest percentage loss in more than two weeks.
Mexico's IPC stock index closed down 3.6% to 33,880.02 points, with telecommunications giant America Movil shedding 4.21% and retailer Wal-Mart de Mexico4.48%.
Meanwhile, Brazil's benchmark Bovespa index slumped 2.7%, with state-controlled oil company Petrobras dipping 1.7% and bank Itau Unibanco falling nearly 4%. Trading volume was half the normal average.
Likewise the Real lost ground to the US dollar and dropped to 1.65, which is the highest value since last March.
Brazil's shares have lagged behind other emerging stock markets this year as its central bank raised interest rates in a bid to crimp growth and cool inflation.
A move by the country's central bank to lower interest rates last week surprised the market, sparking a short-lived rally but those gains have been wiped out.
Chile's IPSA index .IPSA gave up 3.4% with Banco Banco Credito down 4.2%. Data showed a slowdown in Chile's economic activity by 0.3% in July from June.
Argentina's Merval was down 2.7%; the Lima Stock Exchange lost 1.64% because of lower metal prices and the US holiday. Finally in Colombia, the IGBC lost 1.84%.