Chile, Colombia, Peru equity markets integration on track is spite of crises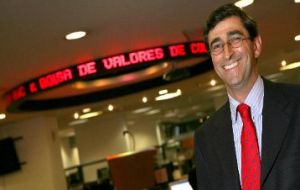 The difficult international situation has not affected the equity markets integration process of Colombia, Chile and Peru, said the president of Colombia's Stock Exchange, Juan Pablo Córdoba.
"The situation in the European countries is ever more difficult and this has had an impact on Colombia's stock market. What we are seeing is the anticipation of extreme volatility and the European leaders have a great responsibility in adopting measures to address the world crisis", underlined Cordoba.
However Cordoba said that those turbulences have not influenced the integration process of the Latin American Integrated Market, MILA, made up with the stock markets of Chile, Colombia and Peru, although "it has slowed the fusion process of Peruvian and Colombian markets".
Córdoba said that the financial crises in the US and in the European Union must be addressed separately because in the first case "there is a great capacity to react to difficulties".
"It's convenient to separate the US from the rest of the world, since they have far greater margin to move and create, which is not the case of Europe", underlined Cordoba.
MILA begun operations last May 30 with the goal of daily trading above 350 million dollars.