Argentina to propose temporary increase of some import tariffs in Mercosur framework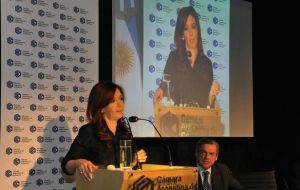 Argentina is considering a temporary increase of tariffs on some imports, following on Brazil's steps, but is also thinking of a formal proposal to its Mercosur partners.
"If the initiative is finally put forward, it will be in the framework of Mercosur", said Argentine government sources.
Brazil was the first to increase tariffs on imports of seven items which are part of the exceptions contemplated by Mercosur and took them to the highest level allowed by the World Trade Organization, 35%.
In a meeting this week with business leaders Argentina President Cristina Fernandez admitted the country was "neither invulnerable nor untouchable" to the international economic crisis, but also underlined that the current Argentine development model (implemented by her and her late husband Nestor Kirchner) "impeded the impact of the 2008 crisis".
The Argentine government this week updated the minimum import values and next week will propose in the coming Mercosur technical meeting the "temporary" tariffs increase on sensitive goods.
Back in 2009, when the previous sub-prime crisis threatened Argentina, the government increased tariffs to 35% for some textile and leather goods.
At the ceremony in the Argentine Chamber of Commerce President Cristina Fernandez also emphasized that the country was able to overcome the international financial crisis (2008/09) and propping domestic consumption was a crucial element of the strategy.
The Argentine president also advanced that in the G20 meetings together with Brazil, the two countries have insisted in the need to expand this model and end with the tightening adjustments proposed by multilateral organizations such as the IMF, because otherwise "any hope of growth would be obliterated".
Sustaining domestic consumption as a pillar of development is a question of "economics intelligence".