Rousseff takes distance from ruling party's intent to control the Brazilian media
Friday, September 9th 2011 - 09:43 UTC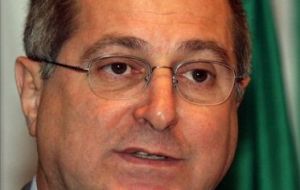 The Brazilian government took distance from the ruling Workers Party demand for an urgent implementation of a controversial media bill, arguing the issue was not urgent.
"The Workers Party has its positions and the government has a program" said this week Paulo Bernardo, Communications Minister and who is in charge of drafting the bill.
Following its congress last weekend the WP announced it would begin a campaign in Congress for the urgent approval of a bill to "democratize" information and a regulatory framework to impede 'crossed assets and interests' that is 'media monopolies' that control different forms of media expression.
Bernardo said that the WP proposal does "not preach for the control of the media nor does it attack freedom of the press".
"What is going on is that we have a controversy with the media; the same way the media can criticize the WP, the WP feels it has the right to criticize the media", said Bernardo.
The minister also downgraded the rating of the word 'urgent' and said the government is working on the regulatory framework to be sent to Congress, which will first undergo a public opinion consultation period, and is specifically referred to electronic communications, broadcasting and television.
Bernardo who has been bombarded in blogs and web sites from WP militants for making a difference between the Executive and the ruling party, recalled that President Dilma Rousseff "strongly stated she defended and protected freedom of the press and freedom of expression and that the Brazilian constitution bans any form of censorship or media content control".
Bernardo is working on draft legislation based on the European experience and which was first collected and displayed by Franklin Martins, former president Lula da Silva Public Information Secretary.
The Communications minister was strongly supported by the president of the Brazilian Socialist Party, who is also the governor of the state of Pernambuco and belongs to the ruling coalition, Eduardo Campos.
"I will not meddle with the congress of a friendly party, but in the Socialist party the issue is not in the agenda because we are concerned with the economy, exports, health and education. The control of the media is the job of citizens, if I don't like one of them, I simply do not consume it", underlined Campos.
The Brazilian press has repeatedly exposed corruption cases involving the ruling coalition and particularly the Workers Party, both under President Lula da Silva and currently with Ms Rousseff.
Contrary to her political mentor who would be furious with the exposures involving his closest aides claiming they were 'politically motivated' and 'good guys' should be forgiven, Ms Rousseff openly supports and sponsors the approach and in eight months has lost four ministers and several other top officials to corruption claims.