Venezuela blasts US for drug-listing four close aides of President Chavez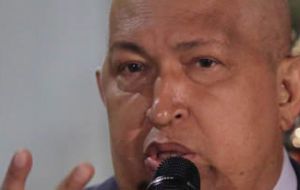 Venezuela strongly rejected on Thursday US sanctions against four close political allies of President Hugo Chavez as a "new action that is part of the permanent aggression Venezuela" by the United States.
This is the second time this year that the US has slapped Venezuela with sanctions: State oil company PDVSA will not receive several financial and other facilities from the US government for selling gasoline to Iran.
The four men in the 'bad' list of the State Department are: Cliver Alcala, Major General of the Fourth Armoured Division of the Venezuelan Army; National Assembly lawmaker Freddy Bernal, from Chavez's PSUV political party; Amilcar Figueroa, a pro-Chavez politician and Ramon Madriz, an officer with SEBIN, the Bolivarian intelligence service that is the continuation of the eliminated DISIP, a directorate under the ministry of Interior.
All of them were declared "Specially Designated Nationals" and will have their assets frozen, while US nationals are also "generally prohibited from dealing with them", according to a web posting by the US Department of Treasury's Office of Foreign Assets Control.
Specifically, OFAC says all four men engaged in alleged arms and drug deals with Colombia's drugs financed rebel army FARC, considered by the US to be a terrorist organization.
In 2008, the US accused three Chavez allies of similar infractions.
The decision by the US Treasury is another demonstration of the US' "imperial and arrogant" behaviour against Venezuela, said a press release from the Venezuelan Foreign Affairs Office.
Now a lawmaker, Bernal took part in the 1992 failed coup led by Hugo Chavez when he was an officer with the Metropolitan Police of Caracas.
Once Chavez was in power, Bernal served one term as mayor of Libertador, one of the largest municipalities that make up the Venezuelan capital of Caracas.
Bernal also lead 'Chavistas' militants to occupy the headquarters of state national company PDVSA during the 2002-2003 failed oil workers strike.
Also a long time Chavez ally, Alcala was the Army officer that occupied by force the headquarters of the Metropolitan Police in 2003 and disarmed officers.