Corruption in Lula da Silva's administration widely extended to all branches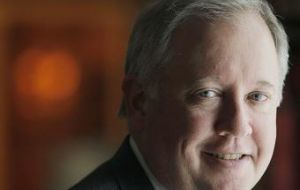 US ambassador in Brazil Thomas Shannon said the country suffered from "extended corruption" according to a diplomatic cable a year and a half ago referred to former president Lula da Silva administration and which was recently released by Wikileaks.

"Corruption is persistent and widely extended and engulfs all three branches of government" said Shannon in a letter addressed February 2010 to the US Attorney General Eric Holder who was preparing for an official trip to Brazil. The cable was released last August 30 by Wikileaks.

President Dilma Rousseff who took office last January first has lost three ministers and several top officials in the last two months to corruption allegations. The heir of Lula da Silva, President Rousseff surprised the political system and public opinion by forcing the resignation of the top officials.

"Police capacity is limited by the lack of training, bureaucratic rivalries, corruption in some agencies and police forces too small for a country of 200 million people", added Shannon.

The former head of the State Department Office for Latin America also was highly critical of the Judiciary branch.

"Although some magistrates are very high level the whole Brazilian judicial system is many times described as dysfunctional, influenced by overlapping jurisdictions, lack of training, an atrophying bureaucracy and overwhelming backlogs" in addressing cases.

Shannon resumed his post in December 2009 as ambassador in Brazil but later returned to Washington for a temporary period as Under State Secretary for Political Affairs until the US Senate confirms Wendy Sherman in the post.