Guatemala: promising to crack crime, retired general wins first presidential round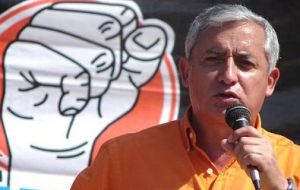 A right-wing retired General promising a crackdown on rampant crime leads Guatemala's Sunday presidential election although he fell short of the votes needed to avoid a run-off in November.
Silver-haired Otto Perez, who promises to send troops into the streets to fight criminal gangs, won 36% support of the vote, far short of the more than 50% needed for an outright first-round victory?
Centrist Manuel Baldizon, a wealthy hotel owner and former congressman with a populist message of supporting the elderly and the poor, had 23% of the vote and will go head-to-head with Perez in a November 6 run-off.
Perez's share of the vote was less than earlier opinion polls had indicated. But his showing suggests he is well-placed to win in the second round and analysts said they expected Perez to emerge victorious, although with a weak mandate.
Fellow rightist candidate Eduardo Suger, an academic, was in third place with about 16% support and many of his followers could turn to Perez in a second round, when the candidate with the most votes wins.
"We are confident that in the next round, the second round on Nov. 6. We will win again and win by a strong margin," Perez told reporters on Monday as the tally was still slowly trickling in.
If he does win, he would be the first former army officer to take power since Guatemala returned to democracy in 1986 after decades of military rule.
Baldizon, who defected from the ruling centre-leftist UNE party, only surged in the polls after President Alvaro Colom's wife, first lady Sandra Torres, was blocked from participating. Trying to skirt a rule banning the president's close relatives from seeking office, she divorced Colom earlier this year, but a series of courts ruled against her bid.
Perez's main campaign promise was a "mano dura" -- or "firm hand" -- against violent street gangs and Mexican drug cartels that have moved into Guatemala, using it as a key route in smuggling South American cocaine to the United States.
Human rights groups warn that Perez's tough crime-fighting message may have a dark side in a country with a history of extra-judicial killings by security forces.
Still, with around a dozen murders a day in a country of 14.7 million people -- smaller than the US state of Florida -- many voters say they have had enough.