A complete Spain lives below the poverty line in the US according to census
Wednesday, September 14th 2011 - 06:40 UTC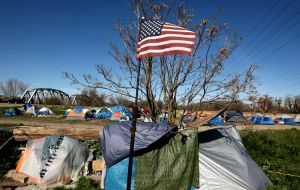 The United States poverty rate hit its highest level since 1993 in 2010 with a record 46 million Americans living below the poverty line, according to a US government report on Tuesday that depicted the grim effects of stubbornly high unemployment.
Forty six million Americans leaving below the poverty line is equivalent to the whole population of Spain.
Underscoring the economic challenges that face President Barack Obama and Congress, the US Census Bureau said the poverty rate rose for a third consecutive year to hit 15.1% in 2010. The number in poverty was the largest since the government first began publishing estimates in 1959.
The US has the highest poverty rate among developed countries, according to the Paris-based Organization for Economic Cooperation and Development.
The poverty line for an American family of four with two children is an income 22,113 dollars a year. The data showed that children under 18 suffered the highest poverty rate, 22%, compared with adults and the elderly.
In a sign of decline for middle-income Americans, the figures showed continued decline in the number of Americans with employer-provided health insurance, while the ranks of the uninsured hovered just below the 50 million mark.
Underlying the Census data was a rate of economic growth too meagre to compensate for the loss of hundreds of thousands of jobs from 2009 to 2010, as the recession officially ended but the jobless rate shot up from 9.3% to 9.6%.
"All of this deterioration in the labour market caused incomes to drop, poverty to rise and people to lose their health insurance," said Heidi Shierholz of the Economic Policy Institute think tank. "One of the immediately obvious issues this brings up is that there is no relief in sight."
The numbers would have been worse, analysts said, but for government assistance programs including extended unemployment compensation, stimulus spending and Obama's health reforms, which appeared to reduce the number of uninsured young adults.