One out of every four US Hispanics is living in poverty, shows 2010 Census
Thursday, September 15th 2011 - 21:08 UTC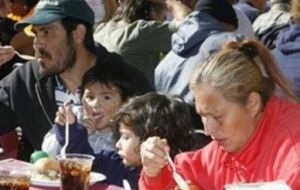 One out of every four US Hispanics – 13.2 million people – is living in poverty, according to a report based on the US 2010 Census data that was released this week.
The figure, which represents nearly 27% of the US 50.5 million Latinos, has increased from 12.3 million in 2009, as the median income of Hispanic households dropped from 38,667 dollars in 2009 to 37,759 dollars last year.
Race appeared to be a fundamental factor in the US economic situation, with whites and Asian Americans taking home significantly more income than blacks and Hispanics, though all groups suffered a drop in income in 2010.
The median household income among non-Hispanic whites dropped from 55,360 dollars in 2009 to 54,620 in 2010.
The definition used by the US Census Bureau takes an annual income of 22,314 dollars as the poverty threshold for a family of four and of 11.139 dollars for a single person.
Statistics for Hispanics form part of the overall scenario presented in the report "Income, Poverty and Health Insurance Coverage in the United States: 2010," which found the overall US poverty rate rising from 14.3% in 2009 to 15.1% last year.
The only aspect in which the Hispanic community shows any improvement over the 2009 figures is in medical coverage. Hispanics without health insurance were down from 15.45 million, or 31.6%, in 2009 to 15.34 million, or 30.7%, in 2010.
Since 2007, the last year before the recession, the average total income for all US households has declined 6.4%, while the poverty rate is up 2.6%. But the total household income for the average Hispanic household has dropped 7.2%.
Another element brought to light by the Census Bureau, though it gave no breakdown by race, is the increase in doubled-up households, "defined as households that include at least one 'additional' adult: a person 18 or older who is not enrolled in school and is not the householder, spouse or cohabiting partner of the householder".
Such households went from 19.7 million, 17% of the total in 2007, to 21.8 million, 18.3%, in spring 2011, something experts have interpreted as a reflection of the difficult economic situation and unemployment rate of 9%.