Uruguay's second quarter slowdown surprised economic consultants' estimates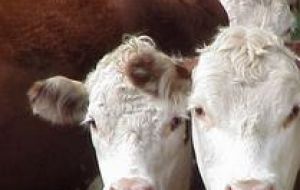 Uruguay's main economic consultants admitted they missed, and by quite a margin, their Uruguayan economy performance estimates for the second quarter which according to the Central bank only expanded 0.5%.
"It's a negative surprise which will have downward consequences for the annual growth projection" economist Alfonso Capurro from consultants CPA-Ferrere admitted to the Montevideo press.
CPA-Ferrere were forecasting 7.5% second quarter to second quarter growth, while PriceWaterhousrCooper, PWC, had anticipated, 6.5% and the Central bank figure was 4.8%.
Another economics consultant to miss target was Oikos that was predicting 1% growth over the previous (Jan-March) quarter and according to the Uruguayan Central bank the final figure was 0.5%.
Central bank figures show a strong slowdown of the Uruguayan economy in the second quarter, but the government of President Jose Mujica insists it can keep to its target of 6% for 2011.
Meantime the three consultants have anticipated they will be downgrading their annual estimates, currently 7% for Oikos; 6.5% for PWC and 6.7% for CPA.
According to the Central bank most sectors decelerated in the second quarter and some even were flat or red such as agriculture and livestock, construction and retailing, down 2.4%.
"We never estimated such a low performance from the primary sector or manufacturing. Cattle breeding is down and this has an impact on the meat industry which is the country's main export item", said Pablo Moya, Oikos chief economist.
Ramon Pampin from PWC said that "meat production is catalogued under manufacturing" and therefore the overall slowdown in the sector.
Capurro from Ferrere-CPA points out that meat industry retraction means fewer exports which dropped 4.4% compared to the same quarter a year ago, when in the 2011 first quarter meat exports had expanded 13.8% over the same period in 2010.
However Capurro disagrees with the Central bank in so far that the drop in exports is described as 'a fall in overseas sales', when what is really happening is insufficient supply of cattle to abattoirs, 'international demand for beef remains strong'.
The statement is supported by the temporary cease of activities of Uruguay's leading export abattoirs, precisely because of lack of cattle.
Regarding the flat performance of construction in the second quarter, following a 7.1% expansion in the first quarter, Capurro said this can be attributed to a drastic drop in public works investments, particularly from the Public Works Ministry.