Second bus-train accident in Buenos Aires leaves 90 people injured
Friday, September 16th 2011 - 06:44 UTC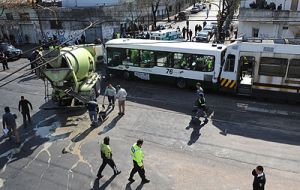 A collision between a bus, cement truck and a pre-metro (lightrail) train injured 90 people on Thursday during morning rush hour traffic in the capital of Argentina, Buenos Aires, according to police.
The accident occurred just two days after a crash between a two passenger trains and a bus killed 11 people and injured more than 200 in the Argentine capital.
Police are investigating the cause of both accidents.
"It appears that the traffic lights were working correctly. The bus was stopped when the pre-metro collided with it from behind and slammed it into the cement truck," Fernando Sostre, spokesman for the Argentine Federal Police, told reporters.
Officials said they were investigating whether the bus was wrongly stopped on the tracks of the pre-metro. The Buenos Aires pre-metro is an above-ground tram system that connects to underground subway lines.
"Most of the injuries are minor and we expect most people will be released quickly from the hospital and return home or to their jobs," said Sostre.