US inflation eases in August as fuel prices climb modestly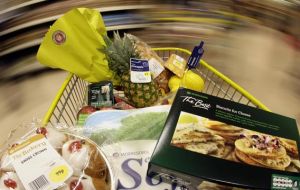 United States inflation rate decelerated slightly in August as gasoline prices climbed at a more modest pace and the cost of buying a new car held flat, the Labour Department said on Thursday.
The Labour Department said its Consumer Price Index increased 0.4% last month, after rising 0.5% in July. The reading was higher than analysts' forecasts of a 0.2 percent rise, with food prices posting their biggest gain since March.
Gasoline prices climbed 1.9% after jumping 4.7% the prior month. Food prices rose 0.5% after increasing 0.4% in July.
Core CPI - which excludes food and energy -- climbed 0.2% after rising at the same rate in July. Last month's gain was in line with economists' expectations.
Given limited pricing power for producers as consumers grapple with a 9.1% unemployment rate, inflation is not regarded as a threat now for an economy which barely grew in the first half of the year.
The core index was held back by new auto costs, which were unchanged for the second straight month. New car prices had risen relatively sharply in May following a March earthquake disaster in Japan that disrupted global supply chains.
In the 12 months through August, core CPI increased 2.0% -- the biggest rise since November 2008. This measure has rebounded from a record low of 0.6% in October 2010. Overall consumer prices rose 3.8% year-on-year, the most since September 2008.