Argentina's economy expanded 9.1% in the second quarter, according to Indec
Saturday, September 17th 2011 - 05:03 UTC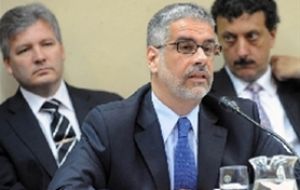 Argentina's economy grew 9.1% in the second quarter from a year earlier, the national statistics agency, Indec, reported Friday.
As in the first quarter, the economy expanded much faster than expected as consumers took advantage of higher salaries to buy durable goods like cars and flat-screen TVs as a hedge against inflation.
However Morgan Stanley economists said in a note that official data might overstate the true expansion in gross domestic product given the controversy surrounding the government's reporting of inflation.
Most private sector economists say the government understates inflation, which if true would make economic growth look far more impressive than it really is.
"Our measurements suggest that the economy expanded at a more modest 5.9% year-on-year during the second quarter," Morgan Stanley said.
Even so, few deny that Argentina's economy is booming thanks to ample government spending, good prices for its exports and double-digit wage hikes that allow many consumers to weather inflation that is widely believed to be running above 20%.
Inflation and even greater salary increases are feeding a consumer spending spree that has shown few signs of slowing. Automobile sales rose nearly 32% on the year to nearly 461,000 vehicles during the first eight months of the year, while shopping center sales are growing at a similar rate.
Last month, Deputy Economy Minister Roberto Feletti said the government expects the economy to expand about 5% in 2012, down from estimated growth of 8.2% this year.
In effect a draft version of Argentina's 2012 budget forecasts economic growth of 5% next year while estimating annual inflation at 9%. The 5% growth estimate would mean a sharp slowdown for the economy, which last year expanded by about 9%, according to Indec. The inflation rate would be only slightly changed from Indec's current estimate of below 10%.
The executive branch has been working without a budget since 2010 because Congress declined to pass Kirchner's 2011 budget.
The 2012 draft indicates that government spending will increase by no more than 20%, almost half of what it has risen this year. Federal spending has soared this year ahead of October's presidential election. Critics say this has fueled inflation, which easily surpasses 20% annually, according to private-sector estimates.
In recent years, Argentina's budgets have significantly underestimated economic growth, inflation and government spending. Economy Ministry officials attributed the estimates to prudence. But critics say underestimating the numbers gives the government greater leeway in spending unexpected revenue, freeing it from congressional oversight.
The budget estimates that total debt payments will amount to about 8% of gross domestic product in 2012.