Beijing says financial aid to Euro zone has 'no preconditions'
Tuesday, September 20th 2011 - 22:00 UTC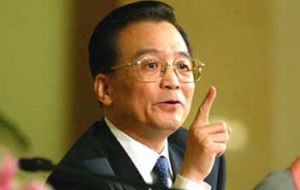 Beijing's plan to provide financial aid to the European Union is not contingent on Europe supporting a proposal that could protect China from trade sanctions, a Commerce Ministry spokesman said on Tuesday.

"Recognizing China's market economy status and supporting Europe to help tackle its debt crisis are two different things" said Shen Danyang. "China usually does not set preconditions when offering a hand to others. We only want respect for our sincere help".

The remarks appeared to back-pedal from comments made by Prime Minister Wen Jiabao barely a week ago where he urged Europe to recognize China as a market economy. He had then talked about a possibility of Beijing, with a quarter of its foreign currency reserves of 3.2 trillion held in Euro assets, investing more in Europe.

A market economy status would make it more difficult for other countries to apply trade sanctions against Chinese goods. China accepted its designation as a non-market economy when joining the World Trade Organisation in 2001.

The premier's comments drew criticism among some analysts for appearing to make China's support of Europe conditional on EU backing of the proposal.

Speaking at a routine news conference, the commerce ministry's spokesman Shen said Beijing believed that China had turned into a market economy after 30 years of reform.

China was very disappointed that the EU refused to grant the nation full market economy status despite its complete transition from a planned economy to a market economy after 30 years of reform and opening up, Shen said.

"We believe that the issue is not a technical problem, but a political one," Shen said.

"But the European Union has not acknowledged China's full market economy status yet. The Chinese side is very disappointed," he said.

He warned that bilateral trade would be affected if growth in the Euro zone slows further and demand for Chinese goods drop. Trade frictions may arise as competition increases between peers of the two countries, he said.

China's annual export growth has so far remained robust despite the worsening European sovereign debt crisis and a slowing U.S. economy, albeit at a slower pace compared with the same period last year due to low base effect, Shen said.

China's annual export growth slowed to 23.6% in the first eight months, down from an increase of 35.5% in the same period last year. In August alone, Chinese exports pulled back from historical levels, but imports jumped to record high, resulting in a smaller trade surplus.

"It is not an easy job to achieve such a pace in export growth under very unfavourable global conditions," Shen said, adding that the narrowing trade surplus would not reverse course during the rest of this year.

He confirmed that there have not been widespread closures of exporters so far in the country's coastal manufacturing belts of Guangdong and Zhejiang provinces, although he said that exporters are facing rising challenges of higher costs and weaker external demand.

"Companies in Guangdong and Zhejiang provinces are confronted with many difficulties, but generally speaking, they are developing healthily," he told reporters. To help them, Chinese government will keep its export policies stable and assist domestic industries that face trade disputes, Shen said.