Brazil deploys 7.000 troops along southern borders to combat organized crime
Tuesday, September 20th 2011 - 09:03 UTC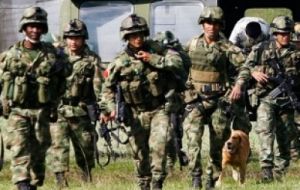 The Brazilian government displayed this weekend thousands of troops with air support along the borders with Argentina, Paraguay and Uruguay in a concerted effort to combat organized crime.
The operation code named 'Agata 2' was anticipated to Mercosur neighbours during the region's Defence ministers meeting September 8.
"We were informed that there would be an unusual movement of troops along the border; it's an exercise, we'll keep track" said sources from the Uruguayan Defence ministry that anticipated a similar joint exercise with Brazil "probably next year".
The operation which was launched over the weekend begun next to the border with Uruguay with troops deployed along routes linking to border crossings.
Brazilian Army sources said that the purpose of the operation was to establish fixed and mobile checkpoints in search of drugs and weapons that supply gangs in Sao Paulo and Rio do Janeiro as well as controlling the illegal traffic of vehicles across the border.
The troops were supported by light armoured vehicles and all those cars crossing checkpoints that did not have the correct documentation, remained in custody.
"Agata will extend from Chui, across from Uruguay and next to the Atlantic ocean to Corumbá in Paraguay" said General Carlos Goellner commander of the Brazilian Army South Region, who admitted that the leg along Uruguay is rather 'soft' and the real tough and challenging area is along the Paraguayan border.
Brazilian television released a special program showing how the drug cartels from Bolivia and Paraguay used 'clones' double-engine civilian aircraft to deliver cocaine and other hard drugs on landing strips in Brazil.
The Agata operation is part of a major Frontiers Strategic Plan which has the support of an Israeli manufactured unmanned Vant drone and thirty other Air Force aircraft.
The Southern Cone is becoming of greater importance for the traffic of drugs to the US and Europe with the Brazilian gangs playing a major role, and supplying the domestic market.
"With these operations we want to cut the Colombia, Bolivia and Peru drugs' circuit that arrives to the River Plate by air and in general cargo trucks. The Uruguayan police have caught several shipments both in the port of Montevideo and in Carrasco airport ready to be sent overseas", revealed Uruguayan police forces.