Good grades for Latam in IMF report; Uruguay's forecasted growth: 6% in 2011
Tuesday, September 20th 2011 - 21:22 UTC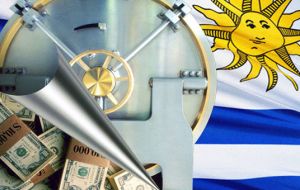 The IMF forecasts Uruguay's economy will expand 6% in 2011 and 4.2% the following year. Estimates are in line with targets made public by Uruguay's central bank.
In its World Economic Outlook released on Tuesday the IMF points out that commodities exporting countries will have the best performance of the region. Top of the list is Argentina with an estimate of 8% followed by Chile with 6.5%, Paraguay, 6.4% and Peru, 6.2%.
Below Uruguay figure Brazil and Mexico, the two largest Latin American economies with expansion in 2011 estimated at 3.8%, points out the IMF World Economic Outlook.
According to the IMF report, Latin America and the Caribbean enjoy robust prospects and are forecasted to grow 4.5% this year and 4% in 2012, based on commodities' exports and a relatively strong financial resistance.
The Latam prospect outstands on a rather pessimistic WEO which warns of serious risks of a major downfall in the Euro zone and in the US if the debt crises are not addressed.
Nevertheless compared to the previous June WEO, Latin America's expected performance was downgraded from4.6%, but the strong impulse remains although with different rhythms according to the country.
"Financial conditions have become to a certain extent more unstable with the increased synchronization of world markets and the growing global aversion to risk, but the impact on Latin America so far has been limited", points out the IMF report.
"In other regions including Central America and the Caribbean economic activity remains soft because of the close real links with the United States and other advanced economies and in some cases because of the high levels of government debt", adds WEO.
Following two years of contraction Venezuela will move forward into the blue zone with growth of 2.1%. Colombia is estimated to expand 4.9%, Ecuador, 5.8% and Central America as a whole, 3.9%.