Colombian Army uncovers 2.000 FARC landmines; most casualties civilians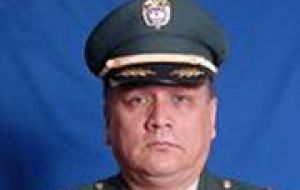 The Colombian army has found 1,961 landmines this year that were planted by FARC guerrillas in Putumayo, a jungle province on Colombia's southern border with Ecuador and Peru, military spokesmen said.
The army's offensive against the Revolutionary Armed Forces of Colombia, or FARC, in the area has prompted the guerrilla group to plant landmines indiscriminately in Putumayo, the army commander in the province, Gen. Jose Guillermo Delvasto, said in a statement.
"This enemy ... does not sleep, does not move, does not cease to matter, has no expiration date and does not require the orders of guerrillas or commanders to take action," the general, who commands the 27th Brigade, said, referring to landmines.
Landmines are planted by the FARC, Colombia's oldest and largest leftist guerrilla group, in an effort to slow down the army and allow rebel fighters to escape sweeps launched by soldiers, Delvasto said.
Troops from the 27th Brigade have also seized 3,882 kilos of explosives in Putumayo this year. The explosives could have been used to "prepare and plant more than 10,000 explosive devices".
The FARC considers Putumayo important because the province's dense jungles provide cover for guerrilla operations and drug labs, according to the Colombian general. FARC 48th Front operates in the province.
Landmines have been planted in 31 of Colombia's 32 provinces, according to United Nations reports.
Up to 100,000 of these deadly weapons are estimated to have been placed indiscriminately by the rebels seeking to inflict casualties on soldiers and protect coca plantations that supply extensive drug trafficking operations in combination with the cartels.
Almost all of the weapons are "non-industrial" homemade mines manufactured in guerrilla camps at low cost.
Most of the victims are civilians, mostly peasants and small subsistence farmers unaware of the deadly traps.
FARC is on both the U.S. and EU lists of terrorist groups. Drug trafficking, extortion and kidnapping-for-ransom are FARC main means of financing its operations.
Originally a Marxist oriented group with political roots, for almost a decade now it has turned into another member of the drugs family in Colombia.