"The Tigers": from Buckingham Palace changing the guard to the Falklands
Wednesday, September 21st 2011 - 01:58 UTC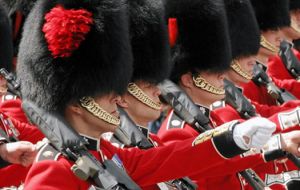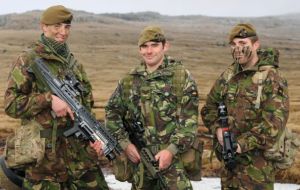 Soldiers from the Portsmouth area have swapped Royal duties for freezing Falkland Islands training reports the Portsmouth media. Up to 120 members of the 2nd Battalion Princess of Wales's Royal Regiment have travelled the 8,000 miles south from London to the Falkland Islands.
There they have endured tough training in mountains and valleys, which is a far cry from their previous role providing ceremonial guards for Buckingham Palace, the Tower of London and St James's Palace.
Now they provide a quick reaction force, guard security installations, patrol across the Islands and maintain a British presence in the South Atlantic.
Private Dayne 'Robbo' Roberts, 20, of Cowplain, said while the unit's public duties in London were a huge honour they were appreciating their new surroundings.
"Pretty much everyone is happy to be here" he said. "A change is always good, and this is the soldiering we all signed up to do. None of us minded being the Queen's guard but it's good to do something different".
Outside Buckingham Palace Pte Roberts and his colleagues performed the traditional changing of the guard in front of huge crowds sometimes made up of more than 3,000 people.
"When we first started it was very nerve-wracking", he admitted "because we weren't used to doing anything like that before. The nerves kept it exciting, but it was hard work".
Members of the regiment – nicknamed The Tigers – are now taking their turn providing security during a four-month stint in the harsh Falklands winter.
The soldiers have been training with live firing, patrolling across mountains and valleys, as well as conducting beach landings from Portsmouth-based offshore patrol vessel HMS Clyde, and practising helicopter-borne assaults, flown in by RAF helicopters.
Pte Roberts said: "None of us has felt cold like this before. But it is all excellent training. We have a test of everything we've learned at the end of the deployment, and though I know it will be hard, I'm sure we will rise to the challenge".
Company commander Major Ben Walters said: "What we were doing before was very hard work, and required almost constant drilling and practice. Now we are facing very different challenges, mostly from the terrain, which has it's closest comparison in somewhere like Dartmoor".
Also serving in the Falklands are Private Tom Bullock, 18, who went to school in Portsmouth, Private George Otieno, from Portsmouth, Purbrook Park School pupil Private Dean Heyes, 21, and Corporal Luke Wallis, 24, from Waterloovill.