Falklands' war Wessex helicopter involved in Sir Galahad disaster rescued for new role
Thursday, September 22nd 2011 - 21:21 UTC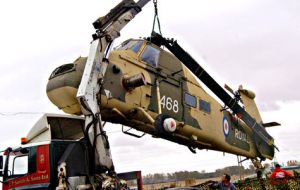 A Wessex helicopter which was used to rescue injured servicemen during the Falklands conflict is to have a new role as a cafe at a Shropshire paintball Centre.
The aircraft was bought for £5,000 from an internet auction site, but it was only when the new owner researched the aircraft's history that its past was revealed.
Carl Davies, the manager at Rednal Paintball Centre, is a military history enthusiast. He discovered the helicopter had been involved in a famous rescue mission.
Fifty died and many more were injured when the troop ship Sir Galahad was hit by an Argentine bomb off the Falkland Islands on 8 June 8 1982.
Mr Davies now plans to restore the Wessex and use it to educate youngsters about the conflict.
Mr Davies said he had gone shopping for a tank, not a helicopter: "We found it on e-Bay and bought it straightaway, but it took us a year to get it here". He was amazed to discover how much equipment had been left in it.
"I thought it would just be a shell, but everything was in it. You can get up to the top and sit where the pilots used to sit. It gives you a feeling of what it must have been like, flying it," he said.
He believes he has the only surviving Wessex from the Falklands conflict: "It will be cleaned up and looked after so that other people can come and have a look. We have rescued a bit of history."
He is also going to try to find out if his Wessex is one of those flown by Prince Andrew, who was in active service as a pilot during the Falklands War. Once he has collected all the information possible, Mr Davies is going to put up an information board and hopes local schoolchildren will come to see the helicopter.