Petrobras confirms ultra-deep water Sergipe-Alagoas oil and gas province
Thursday, September 22nd 2011 - 08:27 UTC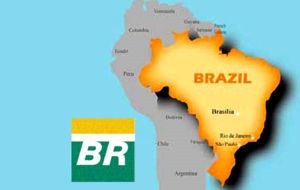 Brazilian major oil corporation Petrobras has discovered oil and natural gas accumulations in the ultra-deepwater of the Sergipe-Alagoas Basin offshore northeast Brazil.

The company reported that the Barra discovery is located in 2,313 meters of water 58 kilometres off the coast of Sergipe and 90 kilometres from the city of Aracaju.

Located on Block SEAL-M-426 in the BM-SEAL-11 concession, the Barra well was formation tested, and wire-line logging and fluid sampling was performed. The data confirmed the presence of a new oil province in the Sergipe-Alagoas Basin.

Located at depths between 5,050 and 5,400 meters, the hydrocarbon reservoir has excellent porosity. The oil sample from the Barra well indicated the reservoir holds oil measuring 45-degrees API in the superior interval and 32-degrees API in the inferior interval, added the official release.

Block SEAL-M-426 is operated by Petrobras with 60% interest, and IBV-Brasil holds the remaining 40%. Petrobras first announced the Sergipe-Alagoas Basin discovery in October 2010, but the company was still drilling the discovery well when it confirmed the light oil field.

Drilled by the Ocean Courage, the well cost about 40 million dollars to drill, but proved a reservoir with characteristics similar to the hydrocarbon-prolific Campos Basin. The Brazilian Petroleum Agency (ANP) has approved the discovery evaluation plan submitted by the companies to determine further the extent of the discovery.

In related news Petrobras said its domestic oil output in August slipped 0.3% to 1.96 million barrels per day on average from 1.97 million bpd in July. Including foreign production, Petrobras total output of oil and natural gas reached 2.56 million barrels of oil equivalent a day, down slightly from July's 2.57 million boe.

The slight difference was attributed to ongoing maintenance work at the offshore Merlin and Marlin Leste fields in the Campos basin responsible for 85% of Brazilian offshore crude.