HMS Edinburgh in her third Atlantic crossing heads for the Falklands
Friday, September 23rd 2011 - 19:34 UTC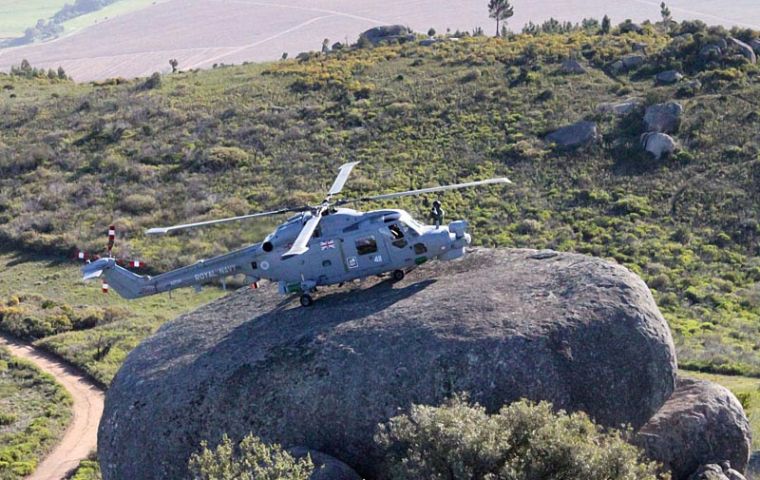 HMS Edinburgh following a two-week maintenance stop in Cape Town, South Africa, is again crossing the South Atlantic to the Falkland Islands. This is the third crossing since the Type 42 destroyer left the UK.
During her time in maintenance, following two months of maritime security operations and patrols around the British Forces South Atlantic Islands, Edinburgh's crew paid their respects to the dead of the two world wars, flew helicopter exercises and rested with visiting friends and family.
The ship's Lynx helicopter and its crew, from 815 Naval Air Squadron, visited the South African Air Force (SAAF) base at Ysterplaat. A day was also spent flying with the SAAF's Super Lynx, incorporating low level flying, formation flying, mountain flying and confined area landings.
Heavy South Atlantic seas often limit flying opportunities during the passage west, so the opportunity to fly near Cape Town was well appreciated by the airmen.
Naval airmen from the Portsmouth-based destroyer's embarked Lynx helicopter had the opportunity to take in stunning views of Table Mountain while the ship underwent maintenance at the main South African naval base in Simon's Town.
Towards the end of the visit, Edinburgh's Commanding Officer, Commander Paul Russell, and several members of the crew, including a six-man guard, conducted a wreath-laying ceremony at the Commonwealth War Graves Commission cemetery in Dido Valley - the final resting place of many British servicemen and women stationed in Simon's Town during the First and Second World Wars.
"The South Atlantic is a harsh environment in which to operate. Extreme low temperatures and significant sea states all take their toll on our equipment, so a period of engineering in a well-founded port like Simon's Town is key to ensuring that we are in good material state for the remainder of our deployment" said Commander Russell.
In addition, the South African Navy hosted a tri-nation sports day with the Royal Navy and the visiting German Navy. Edinburgh's rugby and football teams put in solid performances but lost to the South Africans. (RN)