G77 urges UK to return to Malvinas sovereignty negotiations with Argentina
Monday, September 26th 2011 - 03:34 UTC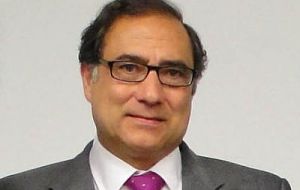 For the first time ever the 131 Foreign Affaire ministers from the countries in the G77 coalition plus China urged the United Kingdom to return to negotiations with Argentina over the sovereignty of the Falklands/Malvinas Islands, the Argentine Foreign Ministry informed on Sunday.
"All of us ministers insist on the need to have the Argentine and the British governments to return to negotiations, in accordance with the principles and goals stated in the UN Charter and the pertinent resolutions reached during the General Assembly in order to swiftly find a peaceful solution to the sovereignty dispute," the statement reads.
According to the Foreign Ministry, the statement was adopted to help find as soon as possible, a peaceful solution to the "Malvinas question" sovereignty dispute, underlining how much the current situation "seriously hinders Argentina's economic capabilities".
The text urges both parts to "abstain" from making unilateral modifications to the current situation while the Islands go through the process recommended in the Assembly General's resolutions.
This is the first time that the coalition addresses the Malvinas Islands controversy in its final statement, the Foreign Ministry reiterated.
The Argentine ambassador to the UN and head of the G77 plus China coalition, Jorge Arguello said that the statement was "a clear step" in favour of the Argentine position.
"The developing world is concerned about the extraction of natural resources that a colonial power is conducting with impunity in the South Atlantic with no right to do so but the might of its military power," he concluded.
The G77 and China is made up of 131 countries and is because of its number the largest negotiating block in the UN and Argentina currently holds the chair (2011).
"The British resistance margin to comply with the international community decisions is shrinking. We now have to ask, until when is Europe going to continue supporting the occupation of the Malvinas Islands only because the UK does not want to strip off the overseas territories conquered by force?, reaffirmed Ambassador Argüello.