Argentine minister and UK generals exchange blows on Faklands defence
Wednesday, September 28th 2011 - 23:42 UTC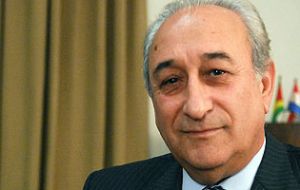 "Force" and "defence budgets" are the only reason Great Britain can wield in support of the Malvinas Islands where "it holds 2.000 people hostage on Islands of Argentine sovereignty", said Argentine Defence minister Arturo Puricelli.
"The British government, regarding sovereignty over Malvinas and more specifically the defence budget, needs to reinforce military spending and the only reason behind this is force, as was clearly specified by the latest reports from London", said Puricelli earlier this week during a ceremony at a refurbished ship yard for the assembly and maintenance of submarines.
"It is so obvious the (UK) can only think in a fortress supported with strong budgets; they have no other reason for such a display of force but that to hold as hostages the 2000 people confined in South Atlantic islands that are Argentine sovereignty".
Puricelli's statements follow on the study from the UK National Defence Association (UKNDA) floated this week in the London media calling for massive defence spending "to avoid expensive and catastrophic mistakes" and specifically mention the Falkland Islands.
Because of UK defence under funding, "the Falkland Islands are a plum ripe for the picking" should Argentina, with the "support of its ally China", choose to contest British claims to sovereignty.
The UK is already on "thin ice" militarily, and in a weak position to defend its interests around the globe, adds the UKNDA report and calls for government to increase defense spending to that it accounts to 3% of GDP, compared to the current 2%.
The UKNDA report is considered to hold weight because it has been compiled by five grandees of defense, including Air Chief Marshal Sir Michael Graydon, a former chief of the air staff, and General Sir Michael Rose, who was commander of UN forces in Bosnia in the early 1990s.
Insisting with the vulnerability of the Falkland Islands, Air Commodore Andrew Lambert said the "British public is not aware of how thin the ice is … or how bad things could get".
Argentina's current peaceful approach to the sovereignty issue may not hold. "Intent can change overnight," he added.
The report argues that it is illogical to cut defense spending just because future threats are hard to predict. Lambert said that unless the UK invested more on defense, historians might look back and say: "Oh my God, how did these people not appreciate how bad things are going to be."
The UKNDA describes itself as formed to support our Armed Forces and to campaign for "sufficient, appropriate and fully funded Armed Forces to provide an effective defence of our country, its people, their security and vital interests wherever they may be."
Puricelli said the refurbished shipyard "is an important advance because we want to continue working to consolidate our naval industry particularly regarding defence". He added the significance of the event since "submarines had never before been repaired in Argentina".