Japan's number 2 automaker plans to increase production in Brazil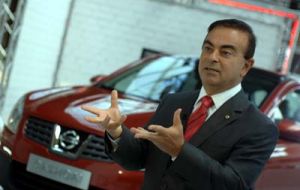 Japan's number two automaker, is planning to invest 1.5 billion dollars to build a factory in Brazil that might produce electric cars, according to reports in the media.
"They're talking about producing 220,000 cars per year ... budget cars, electric cars, three or four models" and the most likely sites for the plant are in Rio de Janeiro state. An official announcement is expected early next month.
A Nissan representative in Brazil confirmed plans for a factory in the country producing around 200,000 vehicles annually, but declined to comment on details. In June, Nissan said a new plant in Brazil would ease reliance on Mexican production for the South American market.
The focus on South America comes as Nissan CEO Carlos Ghosn said this month the carmaker may need to eventually cut back production in Japan if the Yen stays near its current "uncompetitive" level, hurting the profitability of operations there.
Brazil's government said this month it was raising taxes on imported autos to encourage greater investment in the country's car industry. The national automakers' association Anfavea sees the measure spurring investments, currently estimated at 19 billion dollars in the five years through 2015.
Brazil is a key growth market for the world's biggest automakers, including Italy's Fiat, Germany's Volkswagen AG and US-based General Motors Co and Ford Motor Co.
Nissan sold nearly 37,000 cars and light trucks in Brazil through August this year, compared with nearly 20,000 in the first eight months of 2010, making it the country's No. 12 carmaker by sales, according to dealer association Fenabrave.