Stronghold of the opposition falls to Cristina Fernandez in provincial election
Wednesday, September 28th 2011 - 15:39 UTC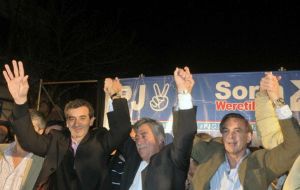 Argentina's latest provincial election, before the October 23 presidential ballot, was a landslide victory for Cristina Fernandez de Kirchner supported candidates and an end to 28 years of dominance by Argentina's main opposition party in the Patagonia province of Rio Negro.
The stronghold of the Radical party fell to Carlos Soria, the Kirchner Victory Front candidate who was elected last Sunday with 49.9% of the vote against the 35.93% of runner up Cesar Barbeito, who in spite of being considered the heir of the current Radical governor Miguel Saiz, had also underlined in the campaign his commitment to the current government of Cristina Fernandez.
In reality it was only natural both candidates should try to identify themselves with the Argentine president since in the 14 August primary, Cristina Fernandez swept Rio Negro province with a 60% support, which as also three points higher than when she was first elected to the Casa Rosada in 2007.
Soria is a professional politician from the hegemonic Peronist movement who was a member of the Lower House when Carlos Menem was president in the nineties and head of State Intelligence with caretaker president Eduardo Duhalde.
Soria called on all Peronists and "good wood Radicales to help steer the changes the people of Rio Negro are demanding" and Barbeito promised "to work for a constructive opposition".
Interior Minister Florencio Randazzo stopped by to be present at the victory celebrations. All Argentine political analysts coincide that after almost three decades in office the ruling Rio Negro Radical party had suffered serious erosion. The Radicales took office in 1983 on the return to democracy but in 2003 forged a working understanding with the Kirchner couple.
The province with an economy based in agriculture, tourism and mining has a population of 600.000 and 77% of the 440.000 electoral roll turned out to vote.
However the province is suffering the consequences of the recent eruption of the Chilean volcano Puyehue that covered the whole territory with a film of mineral ash threatening the life of cattle, particularly sheep. Rio Negro has 13% of Argentina's flock.
With less than a month left for the 23 October presidential election Cristina Fernandez, according to all public opinion polls and political analysts, is poised to be comfortably re-elected in the first round with a wide margin over the other candidates who are struggling to manage a strong presence in Congress.