Raul Castro drops 50-year ban: Cubans allowed buying and selling cars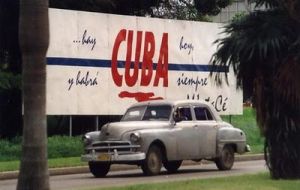 Cuba authorized auto sales among individuals Wednesday, easing a 50-year-old ban that has helped make the Castro brothers-ruled island a living museum of vintage cars.
Until now, Cubans have only been permitted to sell each other vehicles built before the country's 1959 revolution, which has given long life to the US chrome and fin-tail antiques that swarmed pre-revolutionary Havana.
The new regulations, published in the Official Gazette, had been expected as part of a series of reforms being undertaken by President Raul Castro to ease state controls on the economy and encourage some forms of small-scale private enterprise.
The regulations provide for "the transfer of ownership of vehicles for purchase-sale or donation among Cubans living on the island or foreigners who are residents of Cuba."
Ordinary Cubans will still be prevented from buying new cars, which are restricted under the new rules to buyers with dollars or convertible pesos engaged in "work on assignment by the state or in its interest".
But tens of thousands of Cubans who were allowed to buy Soviet-made vehicles through their workplaces before 1990 will now be able to sell them legally.
Also on the market will be newer imports that the government has allowed artists, athletes and doctors working in overseas missions in places like Venezuela to bring home with them.
Foreigners living in Cuba will be allowed to buy or import up to two vehicles under the new rules. Cubans who emigrate -- some 38,000 a year -- will now be allowed to sell their vehicles or transfer ownership of them to family members.
For retired musician Lazaro Gonzalez, the new measures provide the long-awaited opportunity for him to buy a Russian Lada from his sister, who works in Chile.
"This (transaction) is something normal, which never should have been banned," Gonzalez said. "It's another one of these absurd prohibitions that Raul Castro has removed since coming to power."
Allowing car purchases and sales is seen as among the most important of some 300 reforms adopted in April by the Communist Party Congress, which aimed at keeping the centrally planned system from collapse but stopped short of embracing a market-led economy.
Other measures expected to shake up the lives of ordinary Cubans included introducing the right to buy or sell homes or receive a bank loan.
Most Cubans own their homes and do not pay taxes but have only been allowed to exchange, not sell them until now. Details on the home sales measure should be published before the end of the year.