Construction activity in Argentina remains steady as investors choose "bricks"
Saturday, October 1st 2011 - 01:16 UTC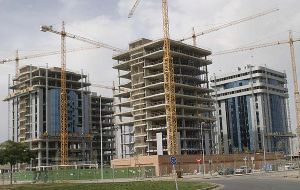 Argentina's construction activity rose 7.3% on the year in August, as builders and private investors continued to benefit from a booming economy and high inflation.
Construction activity decreased 1.8% last month from July, the national statistics agency, Indec, said in a report Friday. Both measures of activity were seasonally adjusted.
The construction industry is benefiting from an economy that the government says will grow about 8% this year, plus virtually neutral or negative interest rates which has depositor investing their savings in "bricks".
Annual inflation that most private-sector economists say is running above 20% and spending on public works have also helped the sector.
Historically, Argentines have invested their money in hard assets like real estate as a hedge against inflation.
The following annual increases were observed in the sale of construction materials in August: cement, 11.9%; bricks, 20.3%; rebar, 8%; and paint, 10.2%, says the Indec report.