Aerolíneas Argentinas among the top short list of money loosing air carriers
Monday, October 3rd 2011 - 22:08 UTC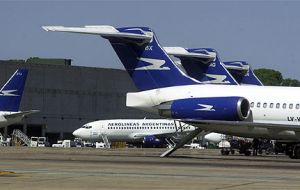 Aerolíneas Argentinas is estimated to have lost in the last twelve months 486 million dollars which puts her among the air carriers with greatest losses in the world. Only Air India, also government managed, but with 30.000 staff (three times her Argentine counterpart) dilapidated 1.2 billion dollars and Kuwait Airways, 564 million dollars
The figures were published by Air Transport World, a leading and prestigious US publication on the air industry which obtains its information from the official data released by the different companies worldwide.
Aerolineas actually figures with losses of 586 million dollars, the second worst, but since the company has not presented balances since July 2008, the 2010 report published by the company can be taken as valid and indicates 486 million dollars.
On the eleven companies of Latin America considered only three figure in the red: Aerolineas Argentinas, Uruguay's Pluna (17.6 million dollars) and Suriname Airways with a million dollars. The rest had profits; Aeromexico, 194 million dollars; Taca, 50 million; Copa Airlines, 241 million; Brazil's Gol, 128.5 million dollars and Lan Chile with 420 million dollars.
The magazine points out that Aerolíneas Argentina main back draw is its operational costs which mean the more the air carrier flies, the more it looses. In other words for each passenger/km, revenue is 7.39 cents while the average cost of each seat/km offered is 9.2 cents, (2010 figures).
This compares negatively with the income/cost equations of most other regional airlines: Copa, 15.9 and 10.28 cents; Brazil's TAM, 10.12 and 8.24 cents and Lan Chile, 9.38 and 9.21 cents.
The explanation could be in international routes since 85% of losses are concentrated in flying overseas according to the latest report. On the other hand Aerolineas has a virtual monopoly of domestic flights.