A CFK landslide, as polls show, could ensure majorities in both Congress houses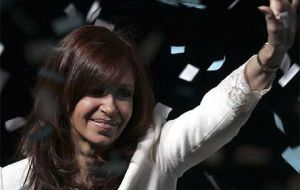 It's a fact that the next Argentine government will see a significant gain in legislative benches in the coming October 23 election while the opposition is appealing to voters support to ensure a balanced congress since everybody admits Cristina Fernandez will be re-elected by a landslide.
Government strategists are trying to estimate how many more members they will have in the Lower House and in the Senate following the sweeping triumph of Cristina Fernandez and her Victory Front in August 14 primaries.
If results when President Cristina Fernandez won with over 50% of the vote are sustainable and repeat in three weeks time, the ruling coalition could have sufficient votes in the Lower House to ensure quorum and win any debate while in the Senate a similar situation could be achieved with allied members.
Next Sunday 23, besides voting for President Argentines will renew half the Lower House and a third of the Senate, and accordingly the Victory Front could soar from its current 87 Deputies to over a hundred, which together with some allies would give them a most comfortable working majority.
The situation could be even better if as some public opinion polls are indicating Mrs Kirchner would actually collect 54.5% of ballots followed by Socialist Hermes Binner with 13% and the Radical party Ricardo Alfonsin with 8%.
A more prudent opinion poll, OPSM, estimated CFK support at 41.7% of ballots which would mean fewer members for the Lower House.
"It's possible that the government recovers its lost majorities in both Houses. I believe the Victory Front is going to increase its winning margin in the elections. And besides its own members it could easily work out other alliances", said Analia del Franco head of Analogias Consultants.