Buenos Aires prepares for impressive Beatles memorabilia auction next week
Wednesday, October 5th 2011 - 08:52 UTC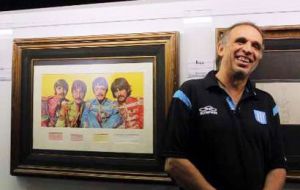 An original drawing by John Lennon is part of the more than 120 lots of Beatles memorabilia that will be auctioned in Buenos Aires by South America's largest collector of the Fab Four.
Lennon's sketch starts at a bidding price of 100,000 pesos (22.535 dollars) and features stick figures of Lennon and his wife, Yoko Ono. In a corner of the picture, an inscription reads: "1+1=John+Yoko. 'Tis simple math guys"
The troves that will be auctioned on Oct. 13 by Banco Ciudad belong to Raúl Blisniuk, who entered the Guinness Book of Records in 1998 as South America's greatest collector of Beatles mementos.
It also features pristine black-and-white photographs, a bass autographed by Paul McCartney, signed checks, LP's and even real dollar bills with pictures of the world's most influential rock group placed over George Washington's face.
"My passion for The Beatles comes from childhood ... I grew up with Beatlemania and I'm a Beatles fanatic," said Blisniuk, who began collecting photos of the group's records at age 13.
"I came from a poor family so my dad couldn't afford the records, but over time, I started saving newspaper clippings, magazines, and my collection grew," he said.
At an event to present the items in Buenos Aires on Tuesday, members of a Beatles tribute band called Danger Four arrived in a London Black Cab wearing dark suits and sporting Beatles hairstyles.
They played some of the group's best-known tunes to commemorate the Beatles' last live performance: an impromptu concert on Jan. 30, 1969 on the roof of their Savile Row Apple headquarters before surprised Londoners on their lunch break.
Danger Four performed instead on the top of the Banco Ciudad building in downtown Buenos Aires. Below, screaming fans in 1960s garb, played by actors, and curious onlookers snapping pictures with cell phone cameras clogged traffic.
"The Beatles are energy and that's why we know they're always attention-grabbers. They're unique and I don't think there will be anyone like them again," said Blisniuk.
"I've always said that the most important things in my life are my family, and then, the Beatles," he said.