Global financial crisis "starting to affect" Argentina says manufacturers union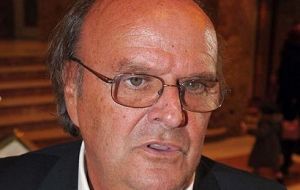 The head of the Argentine Industrial Union (UIA), José Ignacio de Mendiguren, warned on Wednesday that Argentina "is starting to be affected" by the global financial crisis, furthering that the country "is not protected" against the situation.
The UIA head reflected on the subject during a radio interview where he furthered that, "the economic situation in the region had been coming along solidly, but since about two or three weeks ago, we've started to see problems here."
De Mendiguren then stated, "The issue is that Argentina is not well protected to face the international crisis. We are not safeguarded."
The union leader went on to say that the impact of the crisis "forces us to monitor the situation everyday," focusing on local industry, particularly that of Brazil.
"The worst case scenario would be if growth in Brazil began to slow," stated the UIA head.
Brazil trades regularly with Argentina, so how the crisis affects their economy "is very important to us. We pay a lot of attention to what goes on" explained De Mendiguren.
Worries over movements in the Argentine economy had started to surface in recent days, as Buenos Aires stocks experienced dramatic losses due to local economic factors, including concerns over a default in Greece and worries over a downturn in the Brazilian economy.
Brazil is Argentina's main trade partner and is the leading market for much of manufactured goods sales, particularly the auto industry.
The UIA chief public statements signal a distancing from official optimism about Argentina's preparedness in the event of a global shock, since de Mendiguren recently elected as the head of the union had always supported President Cristina Fernandez' 'development inclusive" economic model.
Precisely this week the Argentine president assured at the launching of a 2020 Industrial Plan that the country had built the necessary strong macroeconomic conditions that would allow the sustainability of the current model.
"We have built macroeconomic conditions that under these turbulences allow us to stay firm, and launch a plan like the one we are presenting" said Cristina Fernandez at the political event. She added that "adjustment recipes only lead to recession" and insisted that Argentina's "challenge is to keep on defeating the inertia of those who said that the 2009 hurricane would take us down".
On taking office as head of the UIA some months ago, de Mendiguren radically changed the organization's approach towards the government of Cristina Fernandez from criticism to open support for the policy of safeguarding jobs and the domestic market to the benefit of local industry.
This was clearly evident in a recent meeting of the Argentine president with UIA and business leaders, when she publicly admitted it was the first time in such forums that "the President does not have to defend her policies from criticisms".