Irrigation channels blamed for spike of typhoid and hepatitis A cases in Chile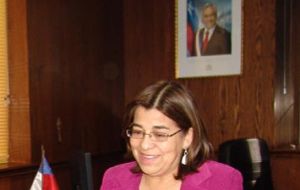 Last week Chile's Institute of Public Health (ISP), together with Metropolitan Regional Health Secretary Rosa Oyarce, began taking samples from irrigation channels in western Santiago in relation to a recent upturn in cases of typhoid fever.
Since January, there have been 64 cases of typhoid reported in Chile, as opposed to only 60 throughout all of last year. There has been a particularly concerning spike in these numbers throughout the last eight weeks, when 19 cases were reported in Santiago alone, an increase of 533% from the same period last year.
María Teresa Valenzuela, head of the ISP, told La Tercera that she believed a contaminated water source was being used to irrigate vegetables, which in turn were being sold at local markets in western Santiago.
Most of the cases reported in Santiago have been centred in the city's western districts, leading officials to believe that the source is in that area. The investigation is expected to last until November and will be conducted along the six main irrigation channels: La Punta, Lo Espejo, Las Mercedes, San José, Colina and Calera.
The rise in typhoid has been accompanied by a similar upsurge in cases of Hepatitis A, which, like typhoid fever, is a disease caused by contaminated food or water supply. So far there have been 520 reported cases of Hepatitis A in Chile this year, which is equal to the total number of cases in 2010. Of this year's cases, 212 were reported in the Santiago Metropolitan Region.
While the water channels are being investigated, Secretary Oyarce has implemented preventative measures as well, first publicly reminding residents to take basic health precautions such as frequent hand washing and cleaning fruits and vegetables before consuming them. She also warned residents not to consume products bought directly on the street and to drink water that is either bottled or boiled thoroughly beforehand.
A second pillar of this preventative campaign focuses on farmers and produce vendors. Oyarce called upon farmers to ensure that they are irrigating their crops with treated water, reminding them that failing to do so can result in a fine of over 73.000 dollars.
Health ministry officials also plan to meet with municipal authorities to train small produce vendors on how to comply with health regulations.
Oyarce expressed particular concern for the health practices of informal vendors. "This year we have seen an enormous amount of small businesses that have opened," Oyarce said last week on Radio ADN; "that is to say, an enormous quantity of products for direct consumption in unhealthy sanitary conditions that are not permitted."
Oyarce said vendors that do not comply with health regulations should be taken off the streets.
By David Pedigo – The Santiago Times