Dangerous skirmishes anticipated when Japan begins Antarctica whaling season
Thursday, October 6th 2011 - 18:04 UTC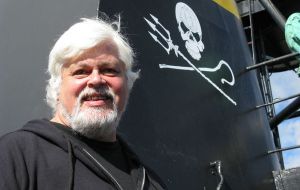 New Zealand joined Australia in criticizing Japan's decision to resume whaling in Antarctic waters later this year and Tokyo's announcement that it will increase security for its whaling fleet.
"The Japanese government (is) making noises that have an ominous feel about them," New Zealand Foreign Affairs Minister Murray McCully said.
Michihiko Kano, Japan's Fisheries Minister said at a news conference earlier in the week that a patrol boat from the Fisheries Agency would accompany the Japanese whaling fleet when it heads for the Southern Ocean in December to "strengthen the protection given to the research whaling ships."
The addition of the patrol boat to the whaling fleet comes after last season's whale hunt in the Southern Ocean was cut short when anti-whaling activists from the Sea Shepherd Conservation Society blocked strikes on the animals. Sea Shepherd said its actions saved 800 whales, and it promised last week to be back in force this season.
"They will have to kill us to prevent us from intervening once again" Sea Shepherd leader Paul Watson said on the organization's website. "We will undertake whatever risks to our lives will be required to stop this invasion."
Sea Shepherd is calling this season's anti-whaling campaign Operation Divine Wind, the same name Japan gave to kamikaze attacks on US ships in World War II. Sea Shepherd says it will have more than 100 volunteers in Antarctic waters to take action against Japanese whalers.
McCully on Wednesday urged restraint from both sides and said they should tone down the rhetoric. "That's got a very bad feel about it, and we want both parties to take stock before they embark on anything that they will both regret later on," he said.
Besides the patrol boat, McCully said Japan was planning other security measures that he did not specify. "You can only conclude that lives will be put at risk on that pathway," he said.
Australia on Wednesday reiterated its opposition to any whale hunt and criticized Japan's assertions that it takes whales for research purposes.
"There is no justification for continued whaling," Australian Environment Minister Tony Burke said. "Australia unequivocally condemns commercial whaling. We don't accept this is scientific. It should not go ahead."
Japanese whalers killed 171 minke whales and two fin whales during last season's shortened Antarctic hunt, according to figures from the International Whaling Commission.
Japan's whale hunts are conducted by the Institute of Cetacean Research, a non-profit research organization overseen by Japan's Ministry of Agriculture, Forestry and Fisheries.
The Japanese whale hunts take place in the Southern Ocean Whale Sanctuary, an area around Antarctica where the International Whaling Commission banned commercial whaling in 1994. Japan says its hunts are needed to determine if whale populations are sufficient to sustain commercial hunting. Kano said Tuesday the resumption of commercial whaling is still Japan's intention.
Japan also hunts whales in the Northern Pacific, taking 100 sei whales, 50 Bryde's whales, 119 minke whales and three sperm whales last season, according to the whaling commission.
Iceland and Norway also conduct whale hunts. Aboriginal whale hunts – subsistence whaling by local tribes – are permitted in the Danish self-governing territory of Greenland, the United States, Russia, and St. Vincent and the Grenadines.