Freedom of expression oppressed and endangered in Argentina claims independent media
Friday, October 7th 2011 - 21:17 UTC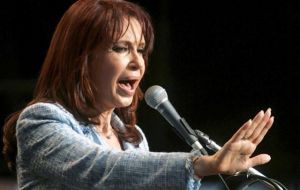 Argentina's main private media association, ADEPA, launched a devastating report on freedom of expression in Argentina and warns of the existence of "a mechanism geared to divulge official reports and aggrieve those who think differently".
In an official release distributed this week by ADEPA's Freedom of the Press Commission, the organization warns of "the existence of a mechanism of unusual dimensions, geared to divulge without any possible shade, the official reports and aggrieve those who think differently", and in the name of an alleged public interest "the government arbitrarily confounds official propaganda with journalism, converting the State's organs in broadcasters of the government's doctrine".
"Far from dissipating the shadows that in recent years loomed over freedom of the press in Argentina, these shadows have acquired new and more dangerous forms geared to the consecration of an only speech and the systematic weakening of criticism and dissent as central elements of democratic debate", points out ADEPA which represents over 150 media organizations in Argentina.
Further on the release states that "although formally in Argentina you can still express what you think, whoever does so is exposed to reprisals and persecution". And this occurs according to ADEPA "with the support from the State apparatus. A sustained moral, administrative and financial harassment deployed through different mechanisms and with public resources targets on the one hand: to delegitimize journalists and independent media, and on the other to strengthen the communicational system at the service of Government".
ADEPA underlines that "without independent information democracy is not possible" since "without information there is no chance of choice".
"For the existence of a republican democracy it's crucial that every Argentine is adequately informed to decide and exercise his/her right to dissent with those who rule without being exposed to reprisals. Democracy means besides an elected government by the people, the effective rule of pluralism that does not consist of many voices repeating the same message, but rather many voices that can express different points of view about reality".
ADEPA also recalls journalism's commitment with the community is to search for truth "there where it is hidden and to make it public". There are no circumstances in democracy, "in which power is awarded the legitimacy to demand from the people and the press to keep silent before abuses committed by government".
Today again "we must recall that journalism does not pretend directly or indirectly to compete with politics, but rather is committed by definition, to provide a critical view of the political system and power so that through the divulgation of its acts, society has a chance to put limits to possible excesses".
ADEPA then enumerates several harassment episodes to which the Argentine independent media has been exposed and to that respect affirms that during the last twelve months "a totalizing concept of power has continued to grow and expand over the whole Argentine society. This approach does not admit critical opinions and has the purpose of fixing in the collective conscience the speech of those who rule".
Finally ADEPA says "it has always and will always remain open to democratic dialogue, and is hopeful that rectifications introduced to this situation ensure the full exercise of freedom of the press for the good health of an open, fair and pluralist society"