Argentine proposal to issue coins commemorative of the Fakland/Malvinas War 30 anniversary
Saturday, October 8th 2011 - 08:23 UTC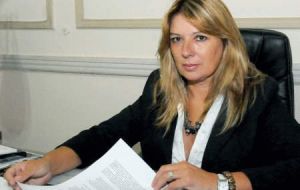 The Argentine Congress Foreign Affairs Commission supported a motion from a Tierra del Fuego Deputy for a special coins issue commemorative of the thirtieth anniversary of the (1982) Argentine Islas Malvinas epic geste.
The proposal from Deputy Liliana Fadul who belongs to the Federal Fueguino Party states that the minting should be on time for the 2012 anniversary.
The coin have engraved in its observe side the inscription: "2012 Thirty years of the Argentine Islas Malvinas geste Praise to the fallen" and in the reverse, "The Malvinas, Georgia del Sur, Sandwich del Sur Islands and adjoining maritime spaces are Argentine".
"We must continue to honour those who bravely defended the Argentine sovereignty over the Islas Malvinas territory. The best way to homage them is promoting, through this kind of initiatives, the memory of their valiant actions", said Fadul in the presentation of her bill initiative.
The favourable vote from the Foreign Affairs Commission means the proposal now has to pass the Budget and Finance Commission before it goes for a vote in the floor.
Another proposal from Deputy Fadul that received unanimous backing was a statement celebrating Brazilian president Dilma Rousseff support on the Malvinas question.
President Roussef said Brazil would adopt all necessary measures "to impede the access to Brazilian ports of vessels flying the 'illegal flag of the Malvinas Islands'".
In this case the initiative was also supported by the Defence Commission.