Protestors beaten in Boston; in New York a "Billionaire's tour" is planned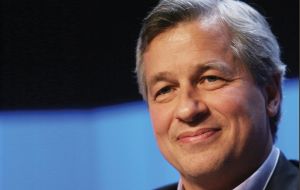 Tensions boiled over Tuesday in downtown Boston, where police arrested over 100 protesters from the Occupy Boston movement after the group expanded its encampment.
Later, the Occupy Wall Street said the movement will take its protests to the New York homes of super-wealthy executives as Goldman Sachs boss Lloyd Blankfein cancelled a talk at a college in the city.
In Boston, the local diary Boston Globe reported 200 riot police surrounded a city square shortly after midnight and ordered the protestors to disperse. When they refused, police moved in, shoved them to the ground, handcuffed them and dragged them off.
Protesters said late last night that police had given participants an ultimatum to return to their smaller original encampment by nightfall or be moved along. Overnight hundreds of Boston and Transit police officers, some in riot gear, moved in on the group, handcuffing protesters and tearing down tents.
"At 1:30 this morning hundreds of police in full riot gear brutally attacked Occupy Boston," the group said in a news release, adding that authorities "made no distinction between protesters, medics or legal observers."
Last evening, the Boston Police Department sent a tweet to @OccupyBoston: "The BPD respects your right to protest peacefully. We ask for your ongoing cooperation."
Protests across the United States have objected to what they see as an unacceptable income gap between rich and poor. They also have complained about the Wall Street bailout in 2008, which they say aided banks while average Americans suffered under high unemployment and job insecurity.
Protesters are scheduled to march through Manhattan's Upper East Side on a "Billionaire's Tour" to take their grievances about economic inequality to the homes of News Corp's Rupert Murdoch, JPMorgan Chase's Jamie Dimon and others.
As the movement builds strength around the United States, Blankfein cancelled a talk at New York's Barnard College, saying he had to be in Washington. A spokesman for Goldman Sachs , the banking and investment firm that received and repaid federal bailout funds at the height of the US economic crisis, said it was a scheduling conflict for the chief executive.
Hundreds of people have been camping in a park near Wall Street since Sept. 17, sparking similar rallies around the country against what participants see as corporate greed. The "Billionaire's Tour" also plans to stop at the homes of David Koch, co-founder of energy conglomerate Koch Industries, and hedge fund manager John Paulson.
"Join us on a walking tour of the homes of some of the bank and corporate executives that don't pay taxes, cut jobs, engaged in mortgage fraud, tanked our economy ... all while giving themselves record setting bonuses," said NYC Communities for Change, one of several groups organizing the protest.
On Thursday college students are planning a solidarity protest on at least 56 campuses, while large protests against economic inequality are being planned on Saturday around the United States.
JP Morgan Chase CEO Jamie Dimon home will be visited by the "Occupy Wall Street" movement