UK unemployment at its highest since 1994 reaches 2.57 million
Wednesday, October 12th 2011 - 21:30 UTC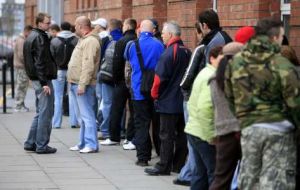 Unemployment in Britain has jumped to its highest level since 1994, with young people hit hardest as private companies fail to make up for job losses in the public sector, piling pressure on the government to boost a stagnant economy.
The government was quick to blame the rise in unemployment to 2.57 million on the global financial crisis and the Euro zone turmoil. But calls for it to ease its austerity plans increased as fears of a "lost generation" of young people without hope of a job are growing.
Economists also warned Britons should brace for more bad news as employment numbers tumbled at recession-style rates.
"The figures are a disaster," said economist Alan Clarke of Scotia Capital, adding that the economy was just not strong enough to create jobs.
Less than a week after the Bank of England launched a fresh round of stimulus to prevent a recession, BoE chief economist Spencer Dale said in an interview that the economy was likely to weaken further in the final quarter of this year.
The UK Office for National Statistics said the number of people without a job on the ILO measure jumped by 114,000 in the three months to August to 2.57 million, the highest total since October 1994. The jobless rate hit 8.1%, the highest since 1996.
Youth unemployment rose to 991,000, its highest since records began in 1992, driving the jobless rate among eligible 16- to 24-year-olds to 21.3%.