Merkel hits back at critics, insists on regulation of financial markets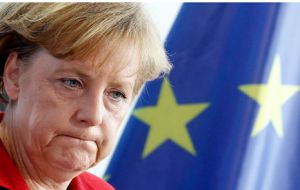 German Chancellor Angela Merkel hit back at critics of her Euro zone policy saying it was unacceptable for them to demand bolder action to combat the debt crisis while at the same time resisting steps to rein in financial markets.
Merkel told a Friday conference organised by German union IG Metall in the southern city of Karlsruhe that Group of 20 nations had failed to deliver on their promise to leave no financial product, actor or market unregulated.
She said she would push at a G20 summit in France early next month for steps to get a grip on the problem of "too-big-to-fail" banks and unregulated "shadow banking" activities.
In comments that appeared aimed at the United States and Britain, Merkel also criticised countries outside the 17-nation currency zone for refusing to go along with proposals for a tax on financial transactions.
"It can't be that those outside the Euro zone, who have pressed us time and again to take comprehensive action on the debt crisis, are at the same time working together to resist the introduction of a financial transaction tax," Merkel said.
"I don't think this is acceptable. We must ensure that financial market actors share in the costs of fighting the crisis. I will push for this until it happens, at least in Europe, even better worldwide".
Washington and London have resisted the tax, prompting Germany to consider pressing ahead with it in the Euro zone.
Cameron said earlier this week that the Euro zone's anti-crisis measures had until now been "a bit too little, a bit too late" and called for a "big bazooka" approach.