US Treasury freezes the Chinese Yuan manipulation claim controversy
Saturday, October 15th 2011 - 18:42 UTC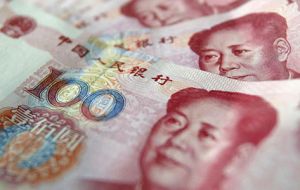 The US Treasury has delayed a ruling on whether China manipulates its currency to gain an unfair trade advantage until later this year. It said the move "will give us a chance to assess progress following several international meetings". Critics of China say it keeps the Yuan low to keep its exports cheap.
The decision to defer the report to US Congress comes just days after the Senate approved a bill to push China to let its currency rise faster in value.
The bill is unlikely to be passed by the House of Representatives, where Republican leaders fear action against China could result in a trade war.
China denies its policy keeps the currency artificially low, but some economists believe the rate is pegged at 15-40% below the rate it would trade at if it was allowed to float freely in the same way as the pound, the dollar and the Euro.
Twice a year, the Treasury gives a report to Congress on China's Yuan policy. Congress looks to the report to see if the government formally accuses China of currency manipulation.
China argues that the Yuan has appreciated 30% since it begun the timid process of limited floating of its currency in 2005.
Previous reports have found China keeps the Yuan undervalued, but falls short of calling China a currency manipulator. A series of high-level global meetings are due to take place over the next few weeks, starting with this weekend's G20 summit in Paris.